Nature of crypto assets in the UK
How are cryptoasset service providers regulated in the UK?
---
Virtual Asset Service Providers (VASPs) functioning in the UK are required to register with the FCA and follow its guidance and rules on anti-money laundering, including adhering to the international standards set by FATF and complying with ML Regs.

From 10 January 2020, existing businesses (meaning those operating immediately before 10 January 2020) carrying out cryptoasset activity in the UK must be compliant with the ML Regs. This includes the requirement to have been registered with the FCA by 9 January 2021 in order to continue doing business.

Those businesses which began operating after 10 January 2020, are required to obtain full registration with the FCA before conducting business.

Though the FCA's crypto registration is not called a licensing regime under the law, it is regarded as similar to a license, as cryptoasset providers (such as cryptocurrency exchanges and custodian wallet providers) are not able to function in the UK without it.

Cryptoasset exchange and custodian wallet providers based in the UK come under the ML Regs and they must register with the FCA and comply with ML/CTF regulations in order to continue their business in the UK.
⋮
A crypto-asset provider or custodian service provider that maintains a physical presence in the UK (such as an office or ATMs) or is engaged in or facilitates crypto-asset activities needs to be registered with the FCA. Those who don't have an office or other activity in the UK, beyond having a client in the UK, are unlikely to be considered by FCA as they are not conducting their business in the UK. Refer to the following chart from the FCA for a detailed overview of who should be registered: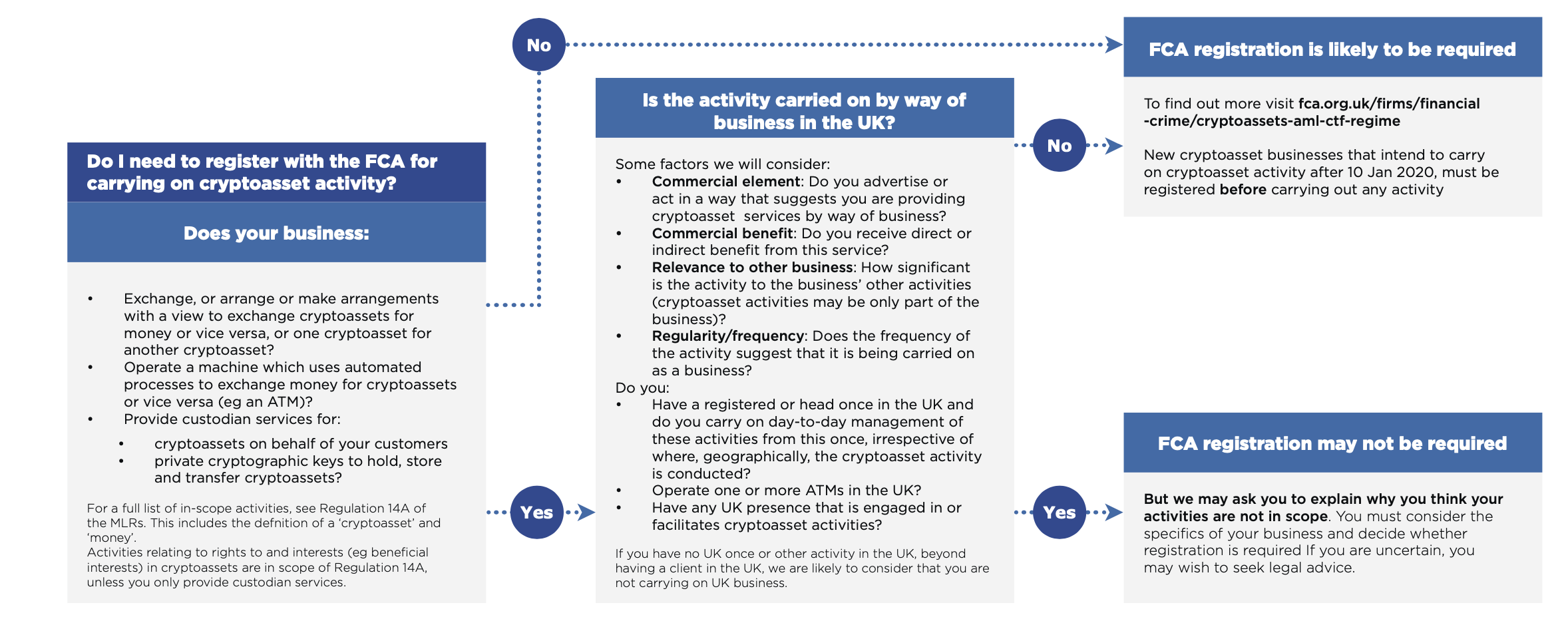 A collaboration between Merkle Science & FinReg 
---
In line with the prediction made by 'Merkle Science RegWatch — The UK Regulation Roadmap' panelists, the Financial Conduct Authority (FCA) issued a statement on 3 June 2021 extending the temporary registration deadline for crypto asset firms and providing insights on the status of the UK's crypto licensing regime. This temporary scheme allows those firms which registered before December 2020 and are yet to receive approval from the FCA to continue conducting operations until they get the green light or their applications are formally rejected.
The pandemic had created a backlog in registration as resources within the FCA have been focused on initiatives such as loan schemes to support vulnerable UK citizens. Post Covid-19, the UK's financial regulator is now transitioning back into stability. To catch up with this backlog, the FCA pushed back the deadline for the temporary license registration from 9 July 2021 to 31 March 2022.